Spice and Wolf: Merchants of Fantasy Release!
Have you ever imagined a crossover between Touhou and Spice&Wolf? Now there is!
Introduction
S&W:MoF is a fangame of Touhou and Spice and Wolf: My year with Holo. In the game, the player roleplays the merchant Lawrence and embarks on a journey with Holo in Gensokyo.
Similar to the original NDS game, the player has to make a living by buying and selling goods from locations in Gensokyo. The player is able to gradually access new areas, get more profit, learn about more goods by travelling and hearing rumors. Moreover, the player needs to keep a healthy relationship with Holo, not letting her down.
The game features
- many distinct events and stories that could happen randomly.
- Two difficulties
- Several endings (Note: in the preview version, some endings are not implemented and are unachievable)
- Around 20 locations and 50 items to sell
- Around 20 story scenes and events
Requirement
The Android version requires Android 19+
The Desktop version requires Java 11
At least 50MB disk space
Please note this game contains assets from an unpacked copyrighted game and this action may be considered unlawful. Please do not redistribute. Also for this reason, it is possible for the asset to be taken down at any time and the source code of this game is not public.
Download
Credits
Leader: XGN
Programmer: XGN
Storywriting: Zhuky.RLG, XGN
Proofreading: Zzzyt
Music: XGN and more
More contributors can be found in the game credit!
Screenshots
Screenshots are taken in Desktop version.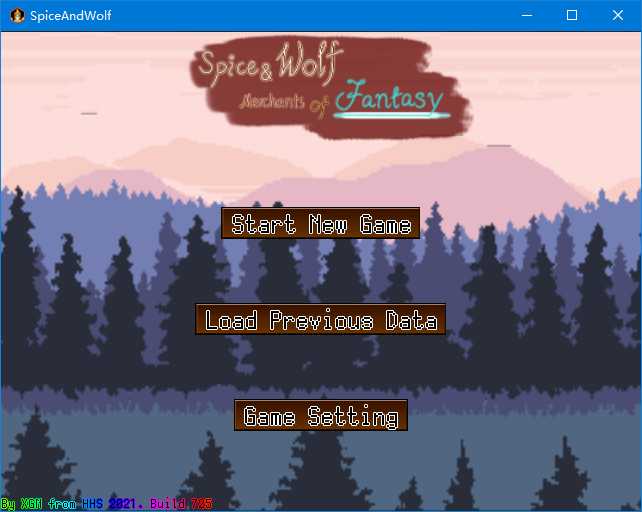 Title
About this project
This project started as a hobby project in 2021 when I first knew about S&W. I wrote most of the game during the holiday, while leaving the unfinished scripts to Zhuky.RLG. However, after the holiday, due to the heavy load from school and homework(esp in China, Senior 2 and Senior 3 are crucial years for a senior student if he would like to advance), the stories were submitted late.
In 2022, the story of Intimacy D->C was finally finished, however at this moment, many written scripts like intimacy B->A were lost. Several updates were made at that time, but for the same reason of workload, the game is forgotten in the corner once again.
With the game unfinished once again, the time advanced to 2023 Jun. After finishing Gaokao(The College Entrance Exam), I was finally able to wrap up this whole thing and release the game. However, many things were lost, like the initial love and joy of the game and the project, many precious stories written by Zhuky.RLG(I could not find them in my disk), and a lot of TODO features. Unwilling to proceed further, I decided to release this "unfinished" product and declare an end.
So what's missing in the preview version? Holo's intimacy can never go up to B or higher. Therefore, several happy endings are not reachable (though they are actually programmed in the game)
It's safe to say that the game will not receive further update unless it's a bug fix or someone gives me a positive feedback.
Last but not least, I'd like to show my gratitude to Zhuky.RLG and Zzzyt who accompanied me all the way down in this journey and my IntelliJ for still building and running my code after 2 years.
Enjoy and see you soon!
THE END
二维码